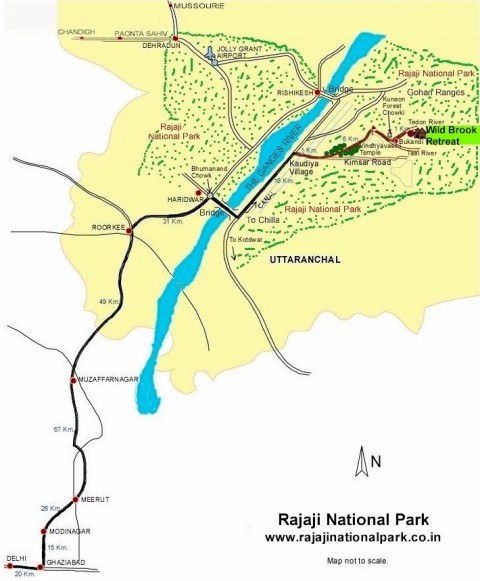 The way from Delhi to Rajaji National Park is via Meerut, Khatauli, Muzaffar Nagar, Roorkee, Haridwar to Chilla located on the other side of the river Ganges.
Air : Nearest airport is Jolly Grant, Dehradun, 35km. Jolly Grant Airport which is only a few kilometers away from the Northern Boundary of the Park has a daily 55 minutes flight from Delhi.
Rail : Nearest railhead is at Haridwar ( 24Km.), Dehradun (56Km.) and Rishikesh (18 Km).

Road : The National Park is 220 kms. from Delhi & from Lucknow it is at a distance of 510km.Chilla is 8 Km. from Haridwar Railway Station which is well connected to major cities and 24 Km. from Rishikesh.

Nearest Attractions : Haridwar (9 Km), Rishikesh (18 Km)
Some Major Accesses : Kotdwar(75 Km.), Dehradun(56 Km), Mussouri (98 Km.).
Rajaji National Park is situated along the hills and foothills of Shivalik ranges in the Himalayan foothills and represents the Shivalik eco-system. On the map it is located between Haridwar (Latitude 290 56' 40") and Dehradun (Latitude 300 20' North) and 790 80' E Longitude (Dehradun 780 01' 15" E (Ramgarh), Chillawali- 770 54' 30" East). Altitude: 300 meters to 1350 meters